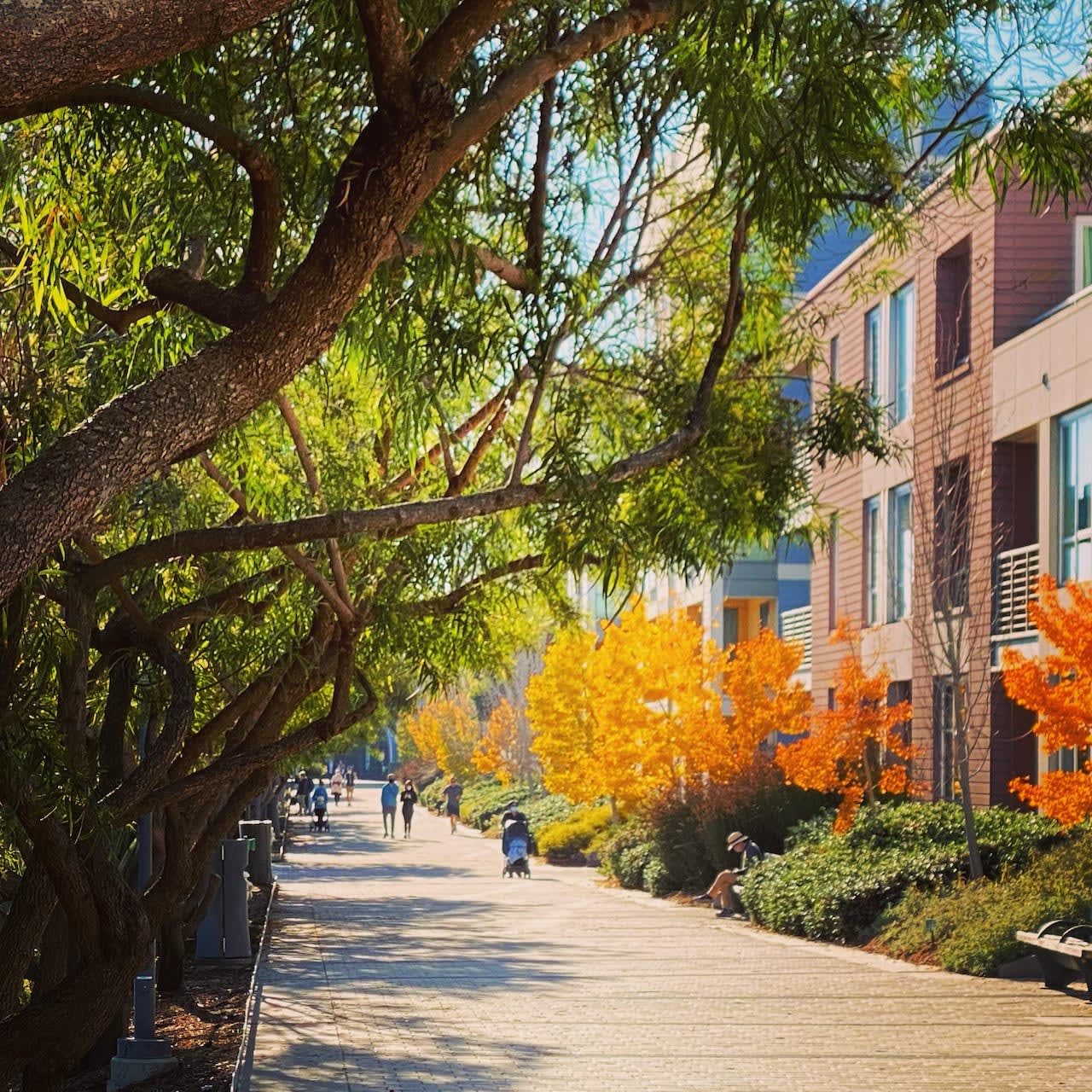 Welcome to Mission Bay

Mission Bay is San Francisco's most dynamic neighborhood because over the past decade it has continued growing & evolving, and also because of the active lifestyle of daily opportunity to stay fit.
Modern condominiums provide this urban neighborhood density, yet Mission Bay's outdoor spaces provide a unique buzz all its own, with the chance encounters to meet your neighbors when you're going about your daily business of shopping, walking with friends, or just enjoying the natural setting.
Mission Bay may not conjure visions of classic San Francisco, but this contemporary neighborhood continues an up-and-coming trajectory. Mission Bay's wide boulevards and active outdoor spaces, and sports stadiums complement the rapidly rising population, who enjoy the active lifestyle in San Francisco's most dynamic neighborhood.
The Neighbors:

An active and ambitious diverse group of people.
Mission Bay has become the city's main hub for scientists and tech industry workers, giving the neighborhood an active, productive vibe. Yet you will also find every other demographic group who have one thing in common: the need for a convenient place to live in the city. Mission Bay is clean and modern. It has convenient transit and neighborhood amenities that make it easy to move-in and get on with their active, productive lifestyle. It is the most convenient place if you commute or if you work nearby, you can do it without a car!
What to Expect:

The latest in cutting-edge residential living.
Mission Bay is unlike any other neighborhood in San Francisco. It has a history, but it lives in the present — and the future. Mission Bay's wide boulevards and active outdoor spaces complement the steadily raising population, who enjoy the lifestyle of San Francisco's most dynamic neighborhood.
The Lifestyle:

Seamlessly combines urban amenities with outdoor recreational opportunities.
Mission Bay is a breeding ground for ideas — and not only scientific ones. Mission Bay is for strolling the Bay Trail to Crain Cove, floating in a kayak waiting for a home run at McCovey Cove, or countless other opportunities for physical fitness that are a natural part of daily life. Given how hard San Franciscans work these days, there simply aren't enough hours in a day, so when you're living in Mission Bay, you don't need to go out of your way to make and incorporate healthy living into your daily lifestyle. This is true whether you're working full-time, or looking for an active lifestyle community for retirement. It's a great base for enjoying all things San Francisco!
Unexpected Appeal:

An updated vision for city living.
This is the new San Francisco, full of the seekers and dreamers who've always come to San Francisco, but with a twist: Mission Bay is clean and bustling. It is San Francisco's first neighborhood to establish itself in over a century. Here you trade charm for convenience; which might mean giving up your curved bay windows, but when was the last time you saw a Victorian with an on-site fitness center? San Francisco hills are beautiful, but all the flat open space of Mission Bay, along with the high density makes it like no other neighborhood.
You'll Fall in Love With:

The energy and the opportunities for a balanced work/life ratio.
Does an active, busy, modern lifestyle sound good to you? Mission Bay residents enjoy the active lifestyle; living on the waterfront; the games or concerts on weekends, and walking along the Embarcadero to the Ferry Building Farmer's Market. Whatever activities you like, the chances are that you'll be best positioned to enjoy them all living in the most convenient location in San Francisco: Mission Bay, San Francisco's most dynamic location.